HP J9150A-FL (10GBase-SR) Optical Transceiver
FluxLight's J9150A-FL is a HP® compatible 10GBase SFP+ Optical Transceiver and is factory pre-programmed with all the necessary configuration data for seamless network integration. Our transceivers perform identically to HP® original transceivers and are 100% compatible with other OEM and third party transceivers. The HP J9150A-FL transceiver is 100% MSA (Multi-Source Agreement) compliant. All FluxLight's transceivers are tested for 100% functionality and guaranteed compatible for outstanding network performance.

FluxLight offers all brands and form factors of Optical Transceivers for all your networking needs. Now you have a reliable, compatible and affordable means to expand your network while maintaining its integrity.
---
Example Application
BUILD IT BETTER: Connecting Cisco Nexus 9336C-FX2 40G QSFP+ ports to HPE ProLiant DL360 Gen10 Rack Servers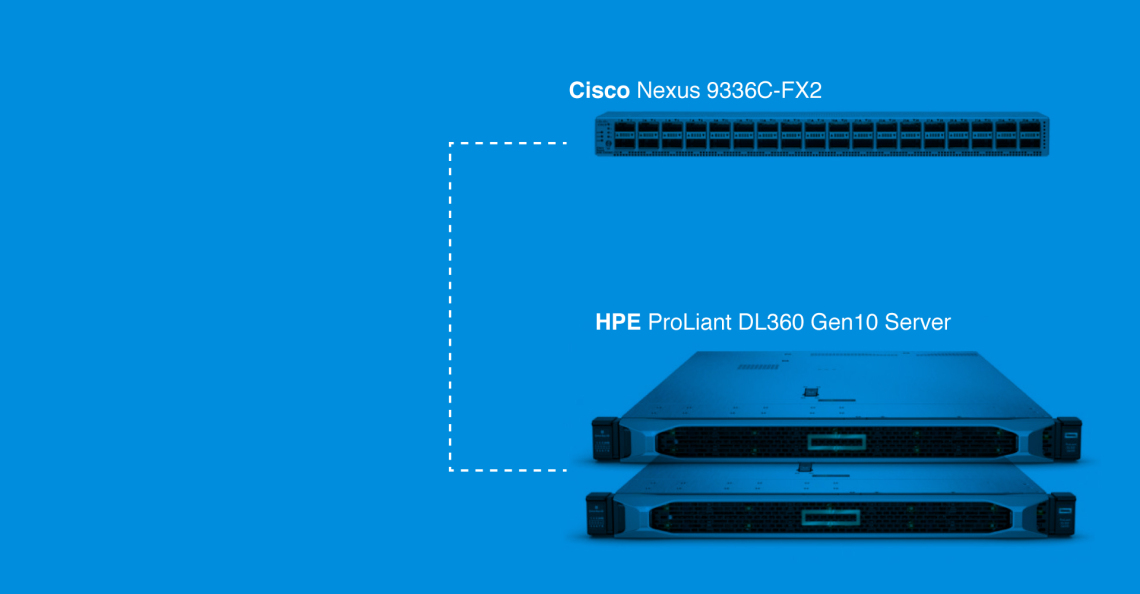 Example 2: Connecting Cisco Nexus 9336C-FX2 40G QSFP+ ports to HPE ProLiant DL360 Gen10 Rack Servers Equipped with HPE 530SFP+ 10GbE 2-port Network Adapters.
Continuing in our series on options for the connection of a leaf switch to rack-mounted servers, we are going to step up the complexity to achieve higher connectivity density. In our previous post (see: FluxLight Blog) connecting the leaf switch to the servers were simple 10Gbps SFP+-to-SFP+ (point to point) links using OM3 multimode fiber. In today's post we will use 40Gbps QSFP+ ports on the leaf switch end of the connection. A point-to-multipoint connection will be used to allow each QSFP+ port to connect to four separate SFP+ ports on the servers.
In the previous post, four SFP+ ports in the Nexus 93180YC-FX switch supported connections to two servers, each connected using two 10Gbps links. By using the 40Gbps ports on the Nexus 9336C, a single QSFP+ slot supports two servers…a 4:1 reduction in the number of switch ports.

The Nexus® 9300-FX platform is part of the latest generation of the fixed Nexus® 9000 Series Switches. Cisco has coined the phrase "Cisco Cloud Scale (CCS)" to describe the technology on which this series is based. The primary elements of CCS are,
Greater performance scaling using multi-rate ports (1/10/25/50/100G)
Lower Total Cost of Ownership
Real-time telemetry and analytics with greater detail
Improved security through line-rate encryption
Faster application completion time
The Cisco Nexus 9336C-FX2 Switch is a 1RU switch that supports 7.2 Tbps of bandwidth and over 2.8 bpps (billion packets per second). This particular model is easily the most flexible of the Nexus 9300 line. Each of the switch's 36 ports can be configured to work as 1/10/25/40/100-Gbps. The ports natively support QSFP+ (40Gbps) and QSFP28 (100Gbps) modules. 1G (SFP), 10G (SFP+) and 25G (SFP28) are supported using adaptors called QSAs. All ports support full line rate encryption (MACsec). Breakout, 40G to 4x10G and 100G to 4x25G, is supported on all ports.
Rack-mounted Server: HPE ProLiant DL360 Gen10 Server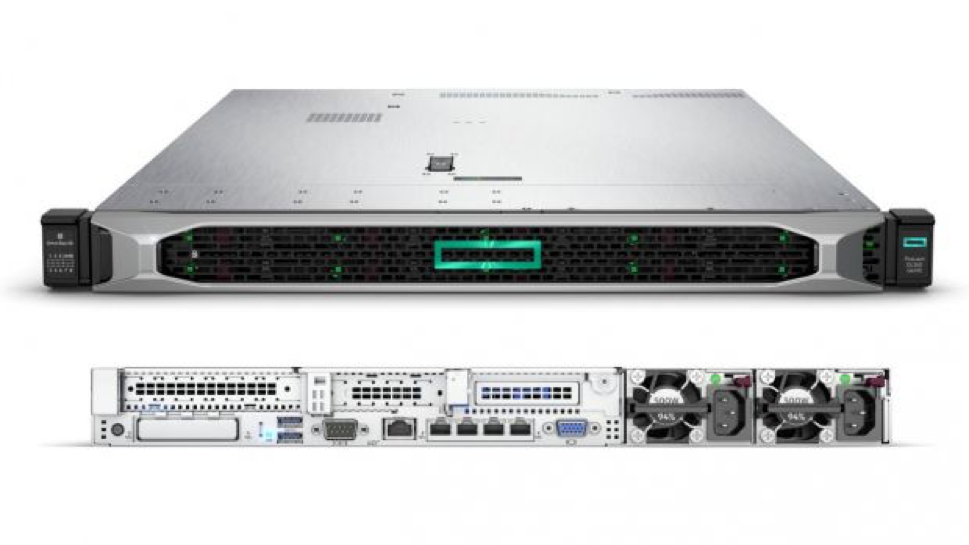 HPE claims, "The powerful 2P HPE ProLiant DL360 Gen10 is redefining dense compute by delivering security, agility and unmatched expandability businesses want all packed in a dense 1U rack design." The ProLiant DL360 Gen10 Server is based Intel® Xeon® processor(s) and can be ordered with up to 28 cores, plus HPE DDR4 SmartMemory operating at 2.666 Billion Transfers/Second (GT/s) supporting up to 3.0 TB maximum memory space. To further boost performance, the Non-Volatile Memory of the HPE ProLiant DL360 Gen10 includes 12 NVDIMMs and 10 NVMe (SSD). This platform "supports diverse workloads in space constrained environments and maintains it with ease by automating the most essential server lifecycle management tasks with HPE OneView and HPE iLO 5."
Dual-SFP+ Port 10G Adaptor: HPE 530SFP+ Network Adaptor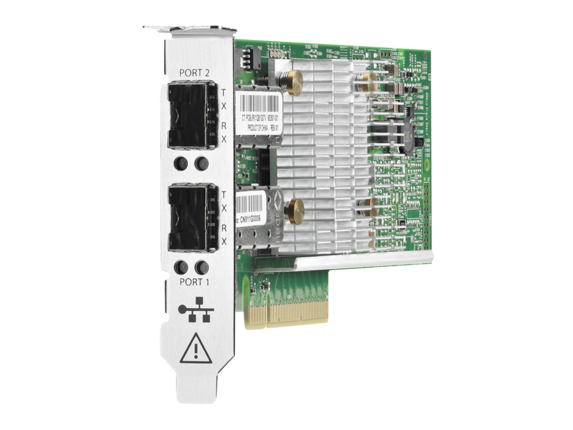 The HPE is an Ethernet adapter with 2 SFP+ 10Gbps ports in a PCIe 2.0 compliant form factor. It is compatible with select HPE ProLiant Gen10, Gen9, Gen8 and Gen7 ML/DL/SL servers. The HPE 530SFP+ combines full line-rate performance across both ports with low power consumption (less than 8 watts max). Ethernet transfer rate of 20 Gbps full duplex per port (40 Gbps aggregate) improves response times and alleviates bottlenecks in next generation data centers. The adaptor supports enterprise class features such as VLAN tagging, adaptive interrupt coalescing, MSI-X, NIC teaming (bonding), Receive Side Scaling (RSS), jumbo frames, PXE boot and virtualization features such as VMware NetQueue and Microsoft VMQ.
10GBASE-SR Optical Transceivers: FluxLight QSFP-40G-SR4 and FluxLight J9150A-FL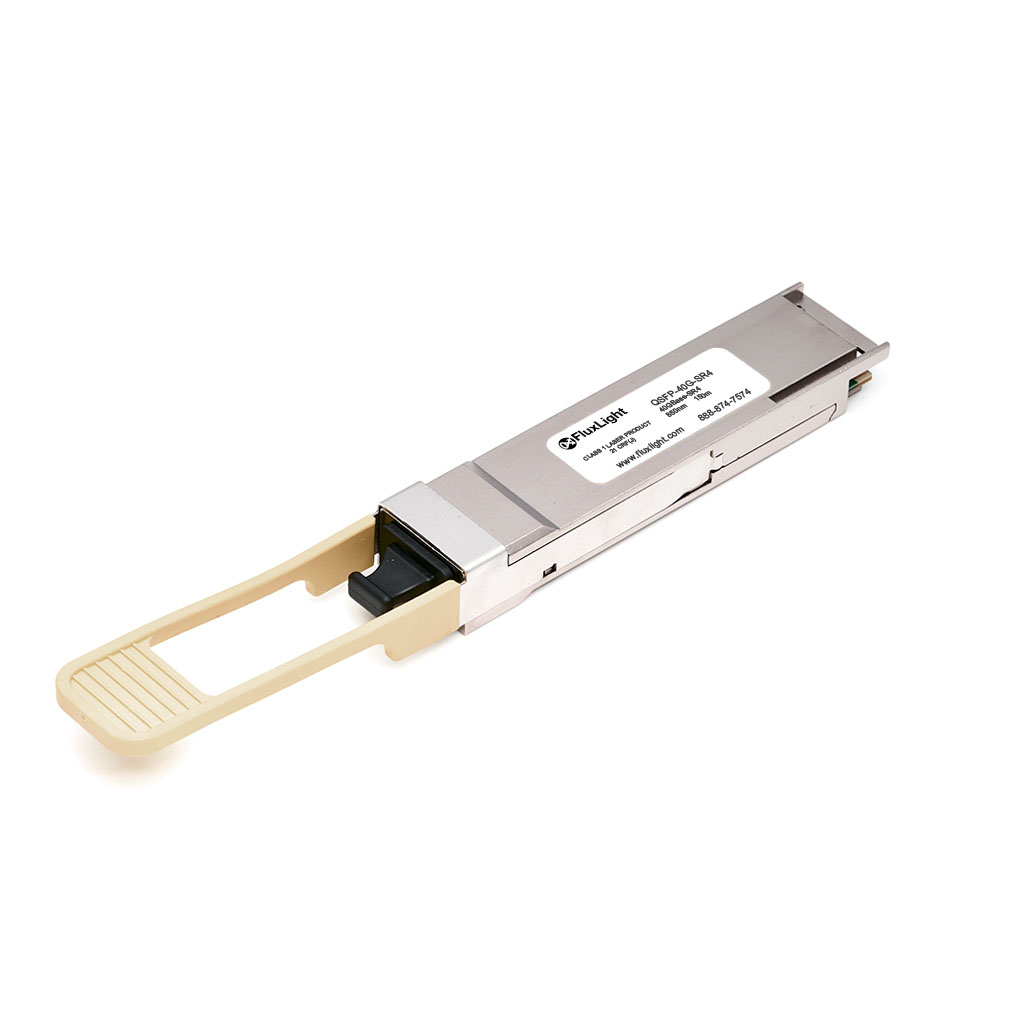 FluxLight's QSFP-40G-SR4 is a Cisco® compatible 40GBase-SR4 SFP+ Optical Transceiver and is factory pre-programmed with all the necessary configuration data for seamless network integration. It supports 4 lanes of 10Gbps Ethernet transmission over up to 150 meters of OM3 multimode fiber and transmits at 850nm. The four 10Gbps lanes each travel over 2 fibers in an MPO-12 cable (4 unused fibers). These transceivers perform identically to Cisco® original transceivers and are 100% compatible and support full hot swappable operation. The QSFP-40G-SR4 is 100% MSA (Multi-Source Agreement) compliant, see: QSFP+ MSA, SFF-8436.
FluxLight's J9150A-FL is fully compliant with the SFP+ MSA (SFF-8431) and backed by Fluxlight's limited lifetime warranty. The primary difference between the SFP-10G-SR (highlighted in our previous post) and the J9150A-FL is compatibility. The J9150 is an HPE® compatible 10GBase-SR SFP+ optical transceiver. It is pre-programmed by Fluxlight with all the necessary configuration data for seamless integration into all supporting HPE equipment. These transceivers perform identically to HPE® original transceivers and support hot swappable operation.
Jumper Cables: MPO to 4 x Dual LC OM3 Multimode Breakout Cable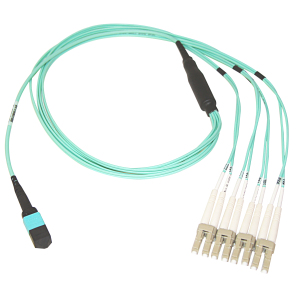 To connect the QSFP+ ports in the Cisco Nexus 9336C-FX2 to the 530SFP+ network adaptor modules in in the ProLiant DL360, an MPO to 4x Dual-LC breakout cable is used. The MPO end of the cable is inserted into the Fluxlight QSFP-40G-SR4. Each of the Dual-LC connectors are inserted into one the Fluxlight J9150A-FL SFP+ modules which are installed in the HPE 530SFP+ network adaptors installed in the ProLiant DL360 servers.
Putting it all together
We've listed all the components so now we need to connect the bits together. The Cisco Nexus 9336C-FX2 switch only uses 1RU and is customarily placed at the top of the rack. Each HPE ProLiant DL360 server also uses only 1RU. Since we are running two 10Gbps links per server, two Fluxlight 10GBASE-SR modules must be installed in each of the network adaptor cards (530SFP+). In this case the optical transceivers must HPE compatible, so the correct Fluxlight part number is J9150A-FL.
The Nexus 9336C-FX2 switch contains 36 multi-rate slots. Assuming not all of the traffic is locally connecting between the local ProLiant servers, we will set aside enough ports that, when equipped with 100G QSFP28 modules (for example, FluxLight QSFP-100G-SR4) will support approximately all the traffic to/from the subtending servers (downlinks). If we allocate 26 ports to 40G QSFP+ connections to servers, that is a total of 1.04 Terabits/sec (Tbps) downlink capacity. Equipping the remaining 10 ports with 100G QSFP28 optical transceivers, brings the total uplink capacity to 10 x 100 or 1.0 Tbps, so just about a perfect split. Of course this is a bit simplistic. The actual allocation may involve many other factors including things like how many spine switches are used in the center design, predictions of intra-rack traffic, etc.
Finally, the MPO to 4x Dual-LC OM3 duplex multimode fiber jumper mentioned above, is used to connect to each QSFP+ module in the Nexus leaf switch to four SFP+ modules in the server NICs. Each QSFP+ module supports two servers with a total of 20Gbps (full-duplex) each. Since we have allocated 26 Nexus 9336C ports to 40G QSFP+ modules, that brings the total number of servers per 9336C switch to 52. In our previous post, using the 48 SFP+ 10Gbps ports on the Cisco Nexus 93180YC-FX, allowed only 24 subtended servers, so we have more than doubled the leaf-server density by using the 9336C-FX2 QSFP+ ports.
---
HP J9150A-FL Platform Support
HP J9150A-FL is supported on a wide range of HP equipment.
HP 3800
HP 3500
HP 1950
HP 2530
HP 1420
HP 2920
HP 5400R
---
FluxLight's Full Line of 10GBase-SR Transceivers
---
Licensing
The following is a list of Finisar Corporation patents Fluxlight has licensed. This licensure recognizes and compensates Finisar for their intellectual property. The J9150A-FL, like all Fluxlight optical transceivers, is covered by this license agreement. Therefore, Fluxlight customers can rest assured that all products purchased are fully licensed, and our customers are under no potential liability that may ensue from the use of unlicensed optical transceiver products.
U.S. Patent Numbers: 7,184,668 (System and method of protecting eye safety during operation of a fiber optic transceiver), 7,079,775 (Integrated memory mapped controller circuit for fiber optics transceiver), 6,957,021 (Optical transceiver with memory mapped locations), 7,058,310 (System and method for protecting eye safety during operation of a fiber optic transceiver), 6,952,531 (System and method for protecting eye safety during operation of a fiber optic transceiver), 7,162,160 (System and method for protecting eye safety during operation of a fiber optic transceiver), 7,050,720 (Integrated memory mapped controller circuit for fiber optics transceiver)
Original Equipment Manufacturer (OEM) names may be registered trademarks of the respective OEM, and the OEM has neither authorized nor sponsored the use of its trademark or trade name. All OEM names are used for cross reference/comparative purposes only.
Limited Lifetime Warranty
Fluxlight provides a non-transferable serviceable lifetime warranty to the purchaser of Fluxlight hardware product purchased from Fluxlight or an authorized Fluxlight reseller. Fluxlight warrants to the original end customer of its products specified below that its products are free from defects in material and workmanship affecting form, fit, and function. All such products sold will work in the application specified at the time of purchase and will meet the datasheet specifications as found on Fluxlight's Web site or otherwise provided by Fluxlight. Any claim alleging that any product fails to conform to the foregoing may be made only by the customer who purchased such product and only while such customer owns such product and while the product remains within the serviceable lifetime period. Fluxlight, at its option, will repair, replace, or provide a credit or refund of either the original purchase price or fair market value, whichever is lower, of any product that is determined by Fluxlight to be defective. Some systems that use Fluxlight products may be allowed to operate outside of the system manufacturer's published settings and Fluxlight does not cover failure in these circumstances. This warranty covers only defects arising under normal use and do not include malfunctions or failures resulting from misuse, abuse, neglect, alteration, problems with electrical power, usage not in accordance with product instructions, acts of nature, or improper installation or improper operation or repairs made by anyone other than Fluxlight or an Fluxlight authorized third-party service provider. Fluxlight reserves the right to substitute functionally equivalent new or serviceable used parts.
Form more information please see our warranty page.