This application note presents a use case for a specialized QSFP+ 40G optical transceiver. The transceiver type is referred to as a 40GBASE-SR-BD, 40GBASE-SR-BX or 40GBASE-BIDI. What makes this transceiver special is, it is equipped with a LC Duplex optical connector and is specified for full-duplex 40GbE transmission over a single pair of OM3 fibers up to 100m or OM4 fiber up to 150m. The more common Short Reach (SR) multimode QSFP+ optical transceiver, the 40GBASE-SR4 type, is equipped with an MPO/MPT connector and is specified for full-duplex transmission over up to 100m of OM3 multimode ribbon fiber (MPO-12, 8 fibers of which are used).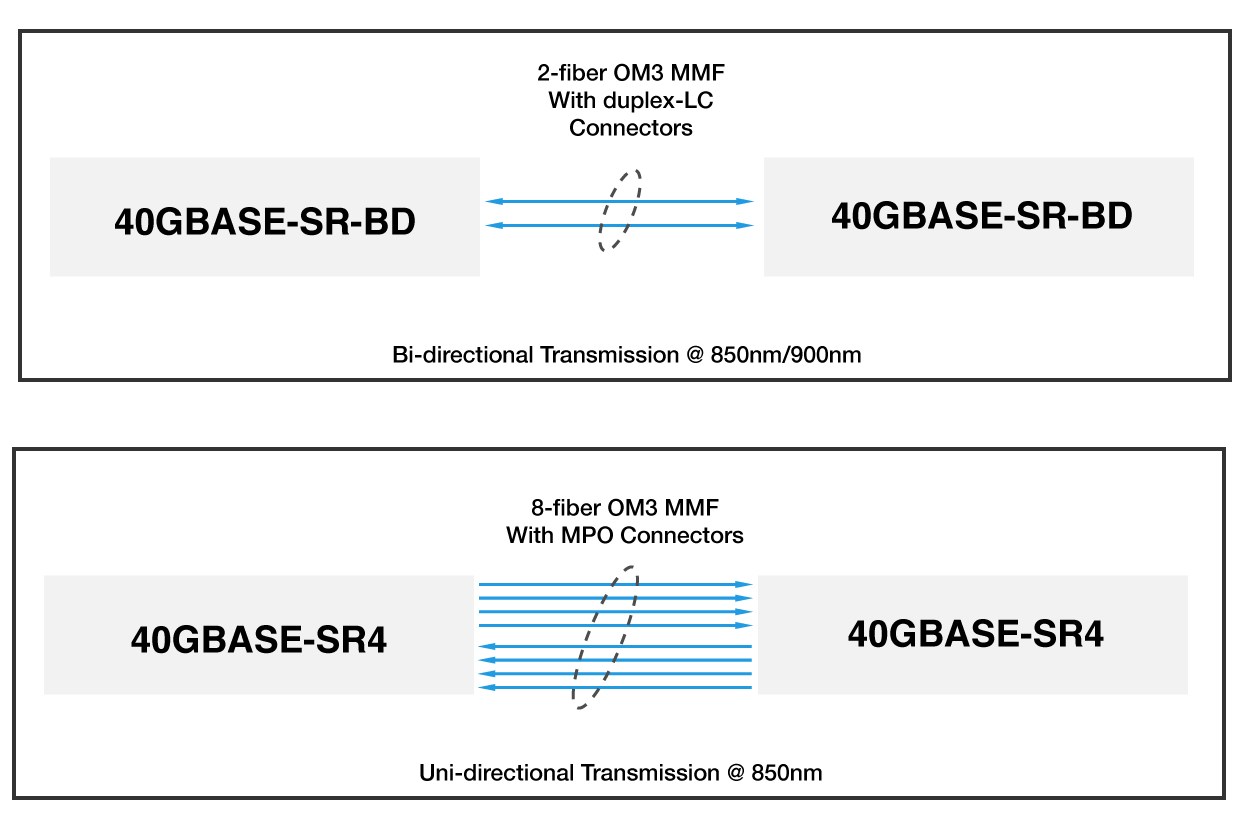 The scenario explored in this application note is the effectiveness and ease of an upgrading an existing 10GbE duplex multimode link to 40GbE in situations where running new fiber is difficult or cost prohibitive. In such cases, the 40GBASE-SR4 cannot be considered because it requires installation of an 8-fiber ribbon MMF cable.
For illustrative purposes two different brands of Ethernet switches, one designated a Spine switch and the other a Leaf switch are featured. In this scenario, previous switches, are being replaced by higher-capacity devices that are each equipped with QSFP+ ports. The existing switches were connected by 4 pairs of OM3 multimode fiber for a total full-duplex interconnect of 40Gbps. The new switches must interconnect at 40Gbps over those same 8 fibers for a new total of 160Gbps. The upgraded spine switch is a Cisco Nexus 9336PQ Switch and the leaf switch, an Extreme Networks X770-32q.
The 9336PQ offers 36 full line-rate (40Gbps) QSFP+ ports for a total of 2.88Tbps of throughput. The switch is 2-rack-units (2RU = 3.5") tall and mounts in a standard 19" equipment rack or bay. It is a fixed configuration, meaning it is a single configuration with no modularity. The Nexus 9336PQ is part of what Cisco refers to as its Application Centric Infrastructure (Cisco ACI) solution. Claiming this solution to be, "the industry's most secure, open, and comprehensive Software-Defined Networking (SDN) solution."