This application note describes the use of 1000BASE-SX links between small edge/access switches and a larger core/spine switch. This note is similar to the note for the GLC-SX-MMexcept this one uses 1GbE SFP transceivers that support Digital Diagnostics Monitoring (DDM). The advantage of DDM is it allows operators to remotely monitor and diagnose warning and fault conditions localized to the optical transceivers.
The Nexus® 9396PX platform is part of the latest generation of the fixed Nexus® 9000 Series Switches. Cisco uses the phrase "Application Centric Infrastructure (ACI)" to describe the technology on which this series is based. The primary elements of ACI are,
Automated IT workflows to shorten app deployment
Software Defined Networking (SDN)
Advanced security and analytics
Seamless application migration across multiple locations
The Cisco Nexus 9396PX Switch is a 2RU switch that supports 1.92 Tbps of throughput. The switch includes 48 SFP+ slots which may be equipped with either SFP or SFP+ modules so both 1G and 10G speeds are possible on a per port basis. 12 fixed QSFP uplink slots are included in the N9372PX. These may be equipped with up to 12 QSFP+ 40GE modules or up to 4 QSFP28 100G modules.
The N9296PX may be equipped with a wide range of optical transceiver interface types across the many rates mentioned above. The tables below include the compatible transceiver types for the two categories of ports in the switch.
Table 1 SFP Optical Transceivers
Table 3 QSFP+ 40G Optical Transceivers
Cisco's Catalyst 9200 series is available in both fixed and modular configurations. The specific model in this example is the C9200-48P-4G. The switch includes 48 POE RJ45 ports and 4 SFP 1GbE slots. The unit may be stacked with other fixed configuration 9200 series models with up to 80 Gbps of stacking bandwidth. The switching capacity is 104 Gbps with a forwarding rate of 154.76 million packets per second (Mpps). Highlights of the Cisco IOS XE software are,
Automated device provisioning
API-driven configuration
Granular visibility (new-real-time network monitoring)
Seamless software upgrades and patching
The table below shows the range of optical transceivers that may be equipped in the C9200L-48P-4G's 4 SFP slots.
Table 4 SFP Optical Transceivers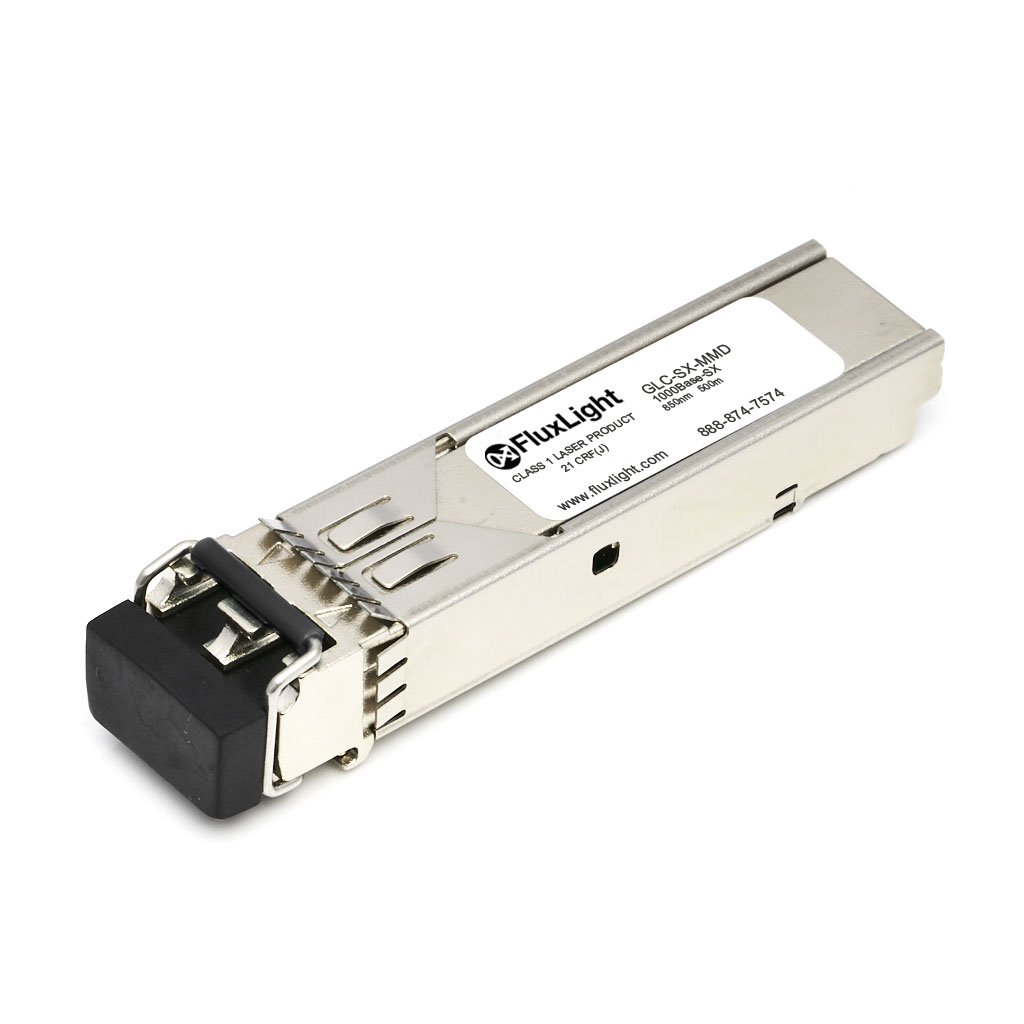 FluxLight's GLC-SX-MMD-FL (click link for datasheet) is a Cisco® compatible 1000Base-SX SFP+ DDM Optical Transceiver and is factory pre-programmed with all the necessary configuration data for fully compatible operation with all Cisco equipment offering SFP slots. The FluxLight GLC-SX-MMD-FL includes a dual-LC connector and supports the follow link lengths over compatible multimode fiber jumpers,
FDDI-grade, 160 MHz*Km, 62.5 micron: 220m
OM1, 200 MHz*Km, 62.4 micron: 275M
OM2, 500 MHz*Km, 50 micron: 550m
OM3, 2000 MHz*Km, 50 micron: 1000m
FluxLight's device performs identically to Cisco® original transceivers, are 100% compatible and support full hot swappable operation. The GLC-SX-MM is 100% MSA (Multi-Source Agreement) compliant, see: SFP MSA.
The major difference between the GLC-SX-MMD-FL and the GLC-SX-MM is the addition of Digital Diagnostics Monitoring, DDM (also known as Digital Optical Monitoring or DOM) as defined in SFF-8472. DDM allows users to locally or remotely monitor the status of critical operating information in the optical transceiver. Monitored status includes current operation temperature, optical transmit power (dBm), optical receive power (dBm), internal supply voltage (Vdc) and transmit bias current. Along with real-time values for each of these parameters, upper and lower thresholds for both Alarm and Warning levels for each are stored in the module's internal EEPROM.
OM1 MULTIMODE FIBER JUMPER CABLE: FluxLight PN: FL-LCLC-DXMM-2M
To connect the GLC-SX-MM modules in the Cisco Nexus 9372PX to the same type of modules equipped in the C9200 switches, a duplex multimode fiber jumper with dual-LC connectors at each end is used. The one shown here is an OM1 fiber type that will support link up to 220 meters. If longer reaches are required, FluxLight has OM3 versions, see: FluxLight OM3 LC-LC jumpers.
Putting it all together
To create a robust network, each C9200 access switch is dual-homed to two Nexus 9372PX switches. Two FluxLight GLC-SX-MM modules are equipped in the C9200 switches as shown in the diagram below. Since there are three C9200 switches in the example, a total of three GLC-SX-MM modules must be equipped in each of the N9372 switches.
Cisco switches were used to demonstrate the application. FluxLight carries 1000BASE-SX modules compatible with a wide range of OEM switches. Some popular models are listed below.
Table 5 SFP Optical Transceivers for Popular Switch OEMs
---
FluxLight's Full Line 1000Base-SX Fiber Optical Transceivers
---
Licensing